Angel Pelargonium
The little sister of the Regal Pelargonium is the Angel Pelargonium. The Regal Pelargonium is known for its large flowers. The Angel Pelargonium precisely because of its small flowers. From spring until well into autumn, the many small flowers of the Angel Pelargonium bloom all over the plant. Together they create a large sea of flowers!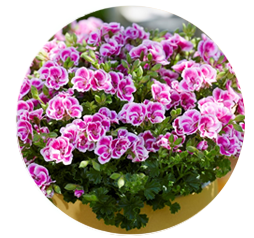 Scented Angel Pelargonium
A special feature of a number of Angel Pelargonium species is that the leaves have a lemon scent. An advantage of this citronella scent is that mosquitoes do not like this scent and therefore prefer to stay away.